Gabriella Martinelli established Martinelli Films in 2013, a boutique production company based in Toronto, focusing on films and documentaries of social and political relevance.   Formerly she founded and was president and CEO of Capri Films and Capri Releasing for eleven years. She is best known fo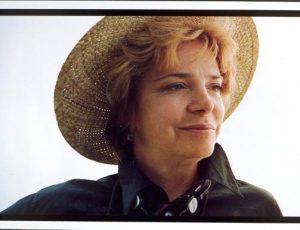 r producing Baz Luhrmann's Romeo & Juliet, starring Leonardo Di Caprio, Claire Danes, John Leguizamo, and Pete Postlethwaite which shot in Mexico City and Los Angeles.
In 2014 Martinelli Films produced, After the Ball, a modern Cinderella tale starring Portia Doubleday, Chris Noth, Marc-André Grondin, Lauren Holly.
Most recently Martinelli was an executive producer on Ben Wheatley's dystopian drama, based on J.G. Ballard's novel, High Rise, starring Tom Hiddleston, Jeremy Irons, Sienna Miller, Elizabeth Moss, Luke Evans, James Purefoy.
Through Capri she produced four Canada/Italy co-productions including Between Strangers starring Sophia Loren, Pete Postlethwaite, Mira Sorvino, Deborah Unger, Gerard Depardieu, Klaus Maria Brandauer and Malcolm McDowell. She was reunited with Sophia Loren for CTV's mini-series Lives of the Saints also starring Kris Kristofferson and Jessica Paré based on Nico Ricci's award-winning trilogy.  Capri also produced two mini-series on the life of Pope John Paul II with CBC and Mediaset, Italy; Karol, The Man Who Became Pope and Karol, The Pope, The Man.
Capri features include Terry Gilliam's Tideland starring Jeff Bridges; and the rock'n'roll vampire comedy, Suck, starring, Malcolm McDowell, Iggy Pop, Alice Cooper, Henry Rollins, Moby, and Jessica Paré.  
Martinelli began her career in British Columbia, moving to Ontario in 1986 after completing B.C.'s Host Pavilion Film for Expo'86,  Zargon's Discovery: shot in the "Showscan" 70 mm/ 60 frame/sec, a format pioneered by special effects master Douglas Trumbull. This collaboration included illustrations by Star Wars genius Ralph McQuarrie.  Her early career credits include Warner's Bros, The Amazing Panda Adventure; Gordon Pinsent's, John and The Missus shot in Newfoundland; David Cronenberg's Dead Ringers; Naked Lunch; and M Butterfly (the first western production to film in China),  Clive Barker's horror fantasy, The Nightbreed, (shot at UK's Pinewood Studios) and Renegades starring Keifer Sutherland and Lou Diamond Phillips.
Martinelli was thrilled to produce the theatrical production Scaramouche Jones starring Pete Postlethwaite (priest in Romeo & Juliet) at Toronto's Elgin Theatre for a sold out run in the same year that  Steven Spielberg declared Postlethwaite, "the best actor in the world."
Over the past year and a half,  Martinelli Films has been in production on the feature documentary Heart of a Lion shooting in South Africa, Zambia, Zimbabwe, and Kenya, and Mozambique , exploring the crises of lion and wildlife extinction in Africa..
Martinelli's previous documentaries include, Marion Woodman: Dancing In The Flames, chronicling the life of renowned writer, poet and Jungian analyst Marion Woodman;  Vincenzo Natali's Terry Gilliam Documentary,  Getting Gilliam exploring the methodology of one of cinema's greats;   Spirit Of Tibet: The Journey To Enlightenment by French Buddhist monk, Mathieu Ricard (featured in TIME Magazine as the "Happiest Man Alive"), narrated by Richard Gere, with music supervision by Philip Glass-  chronicling the life, death and rebirth, of his revered guru, Dilgo Khyentse Rinpoche.   In collaboration with The National Film Board all  distribution revenues have been directed to the Shechen Monasteries in Nepal and Tibet.
Through out her career Martinelli served on the board of The Academy Of Canadian Cinema, is as a founding member of Reel Canada: Our Films in Our Schools,  as well as serving two consecutive terms on the boards of Women In Film and the Toronto Film Board.