Gabriella Martinelli established Martinelli Films in 2013, a boutique production company based in Toronto, with a focus on films and documentaries of social and political relevance. Founder and former president of Capri Films and Capri Releasing, Gabriella is best known for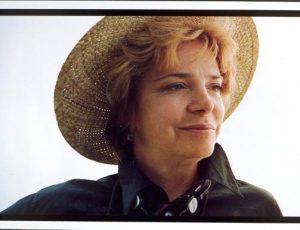 producing Baz Luhrmann's Romeo & Juliet starring Leonardo Di Caprio and Claire Danes.
With Capri Films, Gabriella produced four Canada/Italy co-productions. These included: Between Strangers starring Sophia Loren, Pete Postlethwaite, Gerard Depardieu, and Malcolm McDowell; the mini-series Lives of the Saints starring Sophia Loren, Kris Kristofferson, and Jessica Paré; and Karol, The Pope, The Man, a four-part mini-series about the life of Pope John Paul II, with CBC (Canada) and Mediaset (Italy).
Most recently, Gabriella was an executive producer on High Rise, Ben Wheatley's dystopian drama, based on J.G. Ballard's novel, starring Tom Hiddleston, Jeremy Irons, and Sienna Miller for Recorded Picture Company. Other co-productions with Recorded Picture Company include: Terry Gilliam's Tideland starring Jeff Bridges; Dead Ringers starring Jeremy Irons; and Naked Lunch starring Peter Weller.
Gabriella's producer credits also include David Cronenberg's M Butterfly (the first western film shot in China); Warner Bros' The Amazing Panda Adventure; Clive Barker's The Nightbreed (shot at Pinewood Studios, UK); Renegades starring Keifer Sutherland and Lou Diamond Phillips; Gordon Pinsent's John and The Missus; and the rock 'n'roll vampire comedy, Suck, starring Malcolm McDowell, Iggy Pop, and Alice Cooper.
Documentaries produced by Gabriella, include Marion Woodman: Dancing In The Flames, chronicling the life of renowned writer and Jungian analyst Marion Woodman; Vincenzo Natali's Getting Gilliam, exploring the methodology of director Terry Gilliam; and with The National Film Board, Spirit Of Tibet: The Journey To Enlightenment, documenting the life, death and rebirth of the revered guru, Dilgo Khyentse Rinpoche. The documentary, directed by French Buddhist monk Mathieu Ricard, narrated by Richard Gere and with music by Philip Glass, raised thousands of dollars for Shechen monasteries in Nepal and Tibet.
Highlights in Gabriella's career include producing the large-format film for British Columbia's Expo '86, Discovery, shot in the "Showscan" 70 mm format at 60 frame/sec, with special effects master Douglas Trumbull and Star Wars illustrator, Ralph McQuarrie and the theatrical production Scaramouche Jones, starring Pete Postlethwaite, declared by Steven Spielberg, "the best actor in the world."
Gabriella served on the board of The Academy of Canadian Cinema, is a founding member of Reel Canada: Our Films in Our Schools and served two consecutive terms on the boards of Women in Film and The Toronto Film Board. She is a wildlife activist working with The Lion Centre at the University of Minnesota and several conservation NGOs in Africa.